2019 Jeep Scrambler interior spied, will have Wrangler's removable top
This prototype has the old JK Jeep Wrangler's interior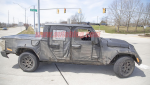 The
Jeep
Scrambler — the long-awaited truck variant of the
Jeep Wrangler
— has been in development for a long, long time. We've seen
spy shots
of various prototypes
for years now
. Even with the camouflage, it's not difficult to tell what's hiding underneath. We have a new batch here, and while there isn't really anything new on the outside, these do give us a good look at the new Jeep's interior. Good news: It looks like the Scrambler will get the
Wrangler's
removable roof panels.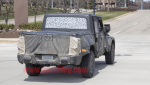 The roll bar, latch and removable panel are all quite obvious from the inside. Although we know the Scrambler is based on the Wrangler, it was unclear how much of the design would carry over. The rest of the interior is a little more odd. We fully expect the Scrambler to be based on the
new 2018 Jeep Wrangler JL
, but this prototype has the dashboard of the outgoing
Wrangler JK
. It also has a
Chrysler
steering wheel, so this may simply be either a parts-bin prototype or an older tester that hasn't been updated.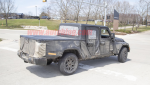 We don't yet know when we'll see a full reveal, but it doesn't look like the Scrambler will hit
dealer
showrooms
until April 2019
. Until then, pore over
some more spy photos
and some
great renderings
of the new
Jeep truck
.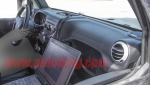 https://www.autoblog.com/2018/04/24/2019-jeep-scrambler-pickup-removable-top/