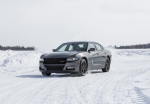 2018 Dodge Charger Wins Edmunds Best Retained Value® Award
Awards honor the brands and models with the highest projected residual value after five years
April 10, 2018 , Auburn Hills, Mich. - Edmunds has named the
2018 Dodge Charger
the winner of the Edmunds Best Retained Value® Award for the large car segment.
The 2018 Edmunds Best Retained Value Awards recognize new 2018 vehicles and brands with the highest projected residual values after five years.
"Buying a new car is a huge financial decision, and our 2018 Edmunds Best Retained Value Awards are designed to help shoppers discover the vehicles that can help them get the most out of their investment," said Avi Steinlauf, Edmunds' CEO. "This year's winners underscore a commitment to quality and reliability, and are good bets to hold their value over the course of ownership."
The 2018 Edmunds Best Retained Value Awards are determined based on the qualifying new models that have the highest projected private-party residual value five years after their launch, expressed as a percentage of their initial True Market Value®.
To be considered for a model-level award, a vehicle must be a 2018 model year, have launched before December 31, 2017, and account in January 2018 for at least 25 percent of the average sales for the models that fall in its award segment. To be eligible to win a brand-level award, an automaker must have eligible vehicles competing in at least four of the 17 award segments.
FCA US Media