1996 Dodge Ram 1500 "Indy 500" Special Edition With $1K Miles Is Up For Sale!​
The Official Truck Of The 80th Indianapolis 500...​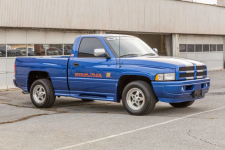 Joining the Viper for race duties, was the 1996 Dodge Ram 1500 as the race's "Official Truck". The "Indy 500 Special Edition" Ram 1500 shared the Viper GTS pace car design theme with a Brilliant Blue Pearl paint with Quartz White dual stripes. The trucks were only produced during the Spring of 1996.
This past week a 1996 Dodge Viper GTS Coupe with 5,084 miles on the odometer at the Mecum Kissimmee event collected a total of $148,000 when it crossed the auction block. The second-generation (GEN II) has been regarded as one of the most recognized versions of the sports car, thanks to its GTS...
moparinsiders.com